Pretend It's Friday—and Prep for TDoV
Hi friends!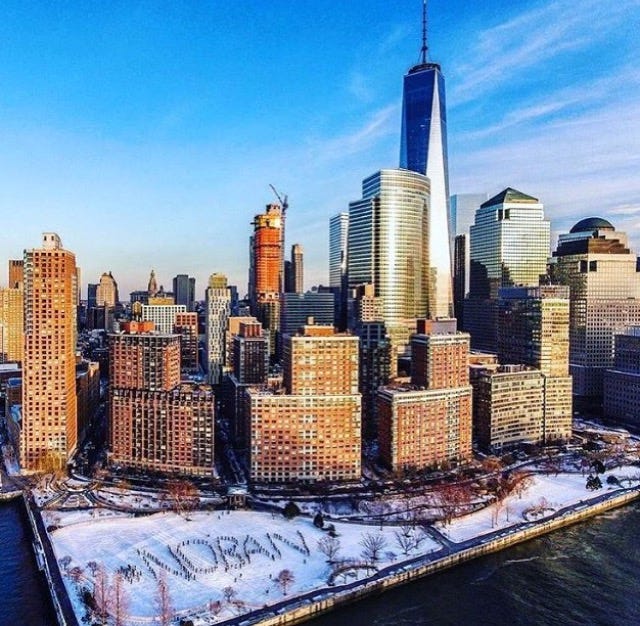 Sorry there was no newsletter on Friday. I was out in the snow doing this! I'm somewhere in the letter A up there, holding the Libyan flag. (Each group held the flag of a different country named in the travel ban.) Here's a video of it. The whole thing was shot by drones, sometimes they were like flying pretty close to us, I found that part terrifying, but the rest was super fun.

Today, why not get ready for the Transgender Day of Visibility on March 31? I'm sending this out in advance to give everyone time to save the date and get involved.

This nl will be quote heavy because I don't want to speak for the trans community, and, even using quotes, I want to emphasize that obviously the trans community is not monolithic and no single person or entity quoted could speak for the whole of the community either. Also, I am not assuming that all the subscribers to the nl are cis, but want to light up this day for those who don't know about it.

Here is a short description from the TDoV website:
The International TDoV is an annual holiday celebrated around the world. The day is dedicated to celebrating the accomplishments and victories of transgender & gender non-conforming people while raising awareness of the work that is still needed to save trans lives. The holiday was founded in 2009 as a reaction to the lack of LGBT holidays celebrating transgender people's successes.


Here's a note from Trans Student Educational Resources on this year's theme:
This year's theme is trans resistance (#TransResistance). In the increasingly transphobic global political climate, we must use our newfound visibility to mobilize trans people against oppression. Speaking out, taking direct action, and educating others is critical to our safety and wellbeing. This recognizes that while visibility is important, we must take action against transphobia. Visibility is not enough alone to bring transgender liberation. However, we can use visibility as a vital tool for transgender justice. We would like to thank activist and Trans Youth Leadership Summit fellow Caelan Damocles for coming up with this theme.


And a graphic from TSER on why visibility is important.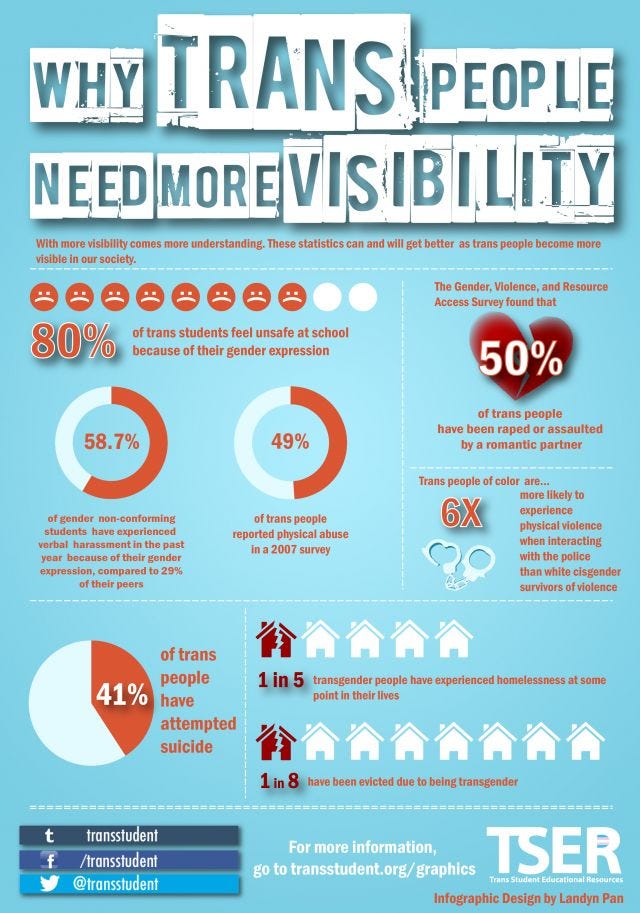 We should be fighting for and supporting our trans and gender non-conforming family every day, but on TDoV go an extra step and participate in an event, or help organize one. (If you are cis, don't center yourself and take the lead on organizing one—reach out to groups in your community and offer to help.)

Usually TSER lists events on their page, or on their facebook page. You can also just search Facebook (or the world wide web!) for events in your community. Look, here is Fresno's event. Here is one in Toledo!

On other days, find ways to take action in your community: The National Center for Transgender Equality has connections and suggestions on work you can do in local schools and on the state level. (Last time the nl mentioned working on trans-inclusive schools, several people wrote in and said they were working on it in their kids' schools, would love updates!)

Remember that black trans women are at particular risk:
Educate yourself about the horrific rate of murder for black trans women
Support the Trans Women of Color Collective
Listen to black trans women about the crisis

Other things you can do:
Follow TDoV on Facebook—hey have lots of info about what's happening day-to-day (spoiler, lots of awful stuff)t
Read about trans reproductive justice issues (pdf)—and think about ways you can help break the barriers
Read about why we don't use the asterisk (trans*) any more, and educate others when it comes up

thanks all!
xxMikki
Please spread the word about action now—

here is the subscription link.

  Send suggestions to 

@mikkipedia

 Remember you don't have to do everything—but 

anything you do can change the world

.  

Please write me about your actions—love hearing about them!

 

If you like what you read and want to support, you can 

click here for paypal

 donations. (Choose "Friends and Family.")

 The  

archive.