Sending ACA Thank You Notes
Hi all—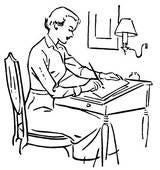 Although it is looking like the GOP doesn't have the votes to get the Obamacare repeal through tomorrow, it's not exactly time to relax. As we've seen over and over again, new legislation and new ways to erode the dignity, security, and safety of those most at risk will just keep coming. (Also, depressingly, there is this story positing that the Republicans benefit even if the bill doesn't pass. Gah.)

I'm going to assume you've already reached out to your own congressional rep by calling, writing, emailing, yelling, visiting, or some combination thereof. I have, but tonight I am writing letters.

Yep, writing letters in ink by hand, on stationery. I'm writing to every Republican who is voting no and thanking them. I'm telling them I appreciate the vote, even if they voted no because the bill doesn't go far enough. I'm enclosing some copies of my medical bills (with redactions!), and talking about how health care costs took 20 percent of my income and sometimes more than that for six years, and that I am still paying off medical debt. I'm pointing out that this terrible bill would have been especially punitive towards low-income women. I'm thanking them for keeping 24 million people insured by voting no tomorrow.

Want to join me? Just open a tab and we can co-obsess over this constantly updated list of how every Republican in the House is expected to vote. When you look at the list, you will probably realize you know people in some of the districts mentioned. It would be great to reach out to them and make sure they are in touch with their rep. Tell them you will pay for the stamp if they write a note. (You can send them stamps on USPS.com!) (USPS.com is my favorite website because it is a website..for the mail. It's the most conceptually beautiful thing ever.)

Another great thing to do today would be to check out this frankly fucking amazing website Racial Equity Tools. Here is how they describe themselves:
Racial Equity Tools is designed to support individuals and groups working to achieve racial equity. This site offers tools, research, tips, curricula and ideas for people who want to increase their own understanding and to help those working toward justice at every level – in systems, organizations, communities and the culture at large.
It's so badass. I REALLY love this section about organizational change. It provides frameworks for thinking about how your organization (book club, company, community group, whatever) may be replicating or relying on power dynamics, especially racial ones, in its day-to-day work, strategies to discuss the issues, and ways to put change in place. There are similar sections on individual change, community change, evaluation and accountability, and more.

If nothing else, read the glossary. Maybe start with "structural racism." It will probably make you work even harder to save the ACA.

xxM
Please spread the word about action now—

here is the subscription link.

  Send suggestions to 

@mikkipedia

 Remember you don't have to do everything—but 

anything you do can change the world

.  

Please write me about your actions—love hearing about them!

 

If you like what you read and want to support, you can 

click here for paypal

 donations. (Choose "Friends and Family.")

 The  

archive.