Support Mama's Bail Out Day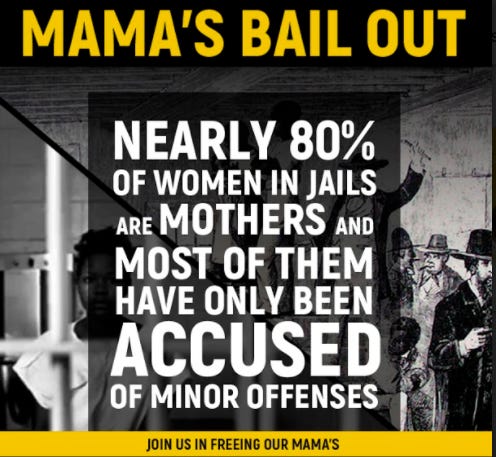 "End this system of punishing people who cannot afford to go free."

Hi—
The above quote is by Sara Morris of the #No215Jails Coalition and comes from this story about groups joining together to bail out black mothers in time to spend Mother's Day with their family.

The main page for Bail Out Black Mamas is here and this is what they say:
Everyday an average of 700,000 people are condemned to cages and separated from their families simply because they cannot afford to pay bail. Since 1980 the number of incarcerated women has grown by 700%. Black women and Trans women are especially vulnerable to incarcerated. Black women are twice as likely as their white counterparts to be jailed. One in five transgender women have spent time in prison or jail and one in three of them reported being sexually assaulted while there.

Eight in ten incarcerated women are mothers and nearly half are in local jails, locked in cages for crimes they have not been convicted of. Most of the women in jail are accused of minor drug and 'quality of life' offenses and are languishing in cells simply because they cannot afford to pay bail.

In addition to the over $9 billion wasted to incarcerate people who have been convicted of no crime, pre-trial incarceration has catastrophic impacts on families and communities. Even a few days in jail can ruin a woman's life. She may lose her job, her family may lose their housing and some even lose their children.

What we can do…
We can buy their freedom and push against mass criminalization and modern bondage!

In the tradition of our enslaved Black ancestors, who used their collective resources to purchase each other's freedom before slavery was abolished, until we abolish bail and mass incarceration, we're gonna free ourselves.

It is going to take our collective effort to give as many Black mamas their freedom this Mother's Day, as possible. Now more than ever, we must support our people and dismantle this system that destroys our humanity and breaks up our families.
ts of places listed on the page, here are a few:
Donate to Baltimore fund
This is the Indiegogo for Philadelphia's group
Here is the Brooklyn Community Bail Fund

After you donate, if you can, you can keep supporting this cause at the local level. Connect with groups in your area who are already working on this, or form a group that centers the experiences and ideas of those most affected by these issues. Here's a great to-do list from the Mama's Bail Out folks:
The groups involved in the Mama's Bail Out are committed to ending modern day bondage and mass incarceration. We believe that the end of money bail is one small, but critical step, to our collective liberation.

We are demanding that decision makers take steps to end the use of money bail by:

At the local level:

City councils and county commissions should pass legislation that provides automatic release for all municipal offenses, divests from contracts with corporations that provide pre-trial services and/or own detention centers and establish and invest in a fund for community organizations who provide pretrial services.

District Attorneys should use their discretion to limit the use of money bail by:

Establishing an office wide policy that prosecutors will not ask for bail in cases involving misdemeanors and low level felonies.

Declining to prosecute school related offenses and allocate funding to restorative and transformative justice practices aimed at children.

Supporting any local or statewide bail reform efforts.

Refusing to take campaign donations from the bail bonds industry.


Judges should use their discretion to reduce the use of money bail by:

Chief Judges should issue a rule change, or initiative a vote, that alters the commonly used bail schedule to reduce reliance on money bail.

Chief Judges should incentivize the use of other forms of bail through a rule change making the use of money bail onerous and making the use of alternatives forms of bail easier.

Judges should scrutinize upcharging and make bail adjustments when prosecutors or police have overcharged people.

Local actors should support data collection on local bond practices.
At the state level:

Pass comprehensive bail reform that reduces or eliminates the use of money bail and bail schedules or minimums, implements mandatory cite and release for misdemeanors, expands non-monetary release options, includes funding and framework for pre-trial services and restorative non-punitive services, strengthens speedy trial provisions, dedicates funds to improving jail conditions and increases funding for indigent defense services.

Provide legal representation for immigrants involved in immigration cases.

Support statewide data collection on bond practices.

At the federal level:

The federal government can incentivize the end of money bail by withholding federal funds to courts and law enforcement agencies in jurisdictions that continue to use money bail. Last year the "No Money Bail Act" was introduced in the House of Representatives, which does exactly that.</li>

Mandate national data collection on bond practices.</li>

When determining immigration bonds judges should use their discretion to release immigrants on their own recognizance. When judges do set bond they should consider the financial situation of the respondent before setting the bond amount.

xxmikki
On Defeat
"No One Will Save Us But Us"
We're Going to Need Love and Anger
Inspiration, Persistence, and Moral Mettle (Under Authoritarianism)
Remember 

you don't have to do everything

—but anything you do can change the world.  Please write me about your actions—love hearing about them! To contact me, hit reply or reach out to 

@mikkipedia 

If you would like to spread the word about action now—

here is the subscription link.

  If you like what you read and want to support, you can 

click here for paypal

 donations. (Choose "Friends and Family.") The  

archive

.